On one side of the spectrum there are Modi Bhakts who automatically think using Euclid's "Common notions" (if a=b and b=c hence c=a) they are Desh Bhakt's too.
And then on the other side of the spectrum are those who loathe Modi, whom the former extremists call Congress supporter, aaptard, Pappu ka chamcha, Kejri ka chamcha, anti-Hindu, secular, terrorist, Pakistani, Italian, etc.
To both those highly disillusioned people of the two extremes, I would like to draw some sort of balance by showing them if Modi is doing well or not based on the following 8 key indicators.
GDP Growth: One of the primary

indicators

used to gauge the health of a country's

economy

. Bigger the number, better the economy.

Before Modi: 6.6%
After Modi: 7.6% (Win)
Consumer Inflation:
Defined as an increase in the overall price level. A consumer facing inflation that occurs at the rate of 10% per year will able to buy 10% less goods at the end of the year if his or her income stays the same. Smaller the number, happier the consumers
Before Modi: 9.46%
After Modi (or I should say Raghuram Rajan): 4.91% (Win)
Rupee against dollar:
Appreciation of Rupee against dollar brings down the cost of all imports like crude oil, gold etc and is a sign towards its economic prosperity and augmentation (even though it has some adverse impacts on the exports)
Before Modi: -9.4%
After Modi: -5.7% (Appreciated i.e. Win), one of the reasons why fuel prices are down.
Sensex Performance: Healthy Sensex can create a sense of confidence about the direction of the economy. As prices continue to rise, more investors come into the market, which builds on the momentum. Falling sensex have the opposite effect. People feel pessimistic about the economy. People hold back on their spending, especially on nonessential items. This slows down economic growth because consumer spending is a key component of the gross domestic product.
Before Modi: 18.7%
After Modi: -9.7% (Unhealthy i.e. Loss)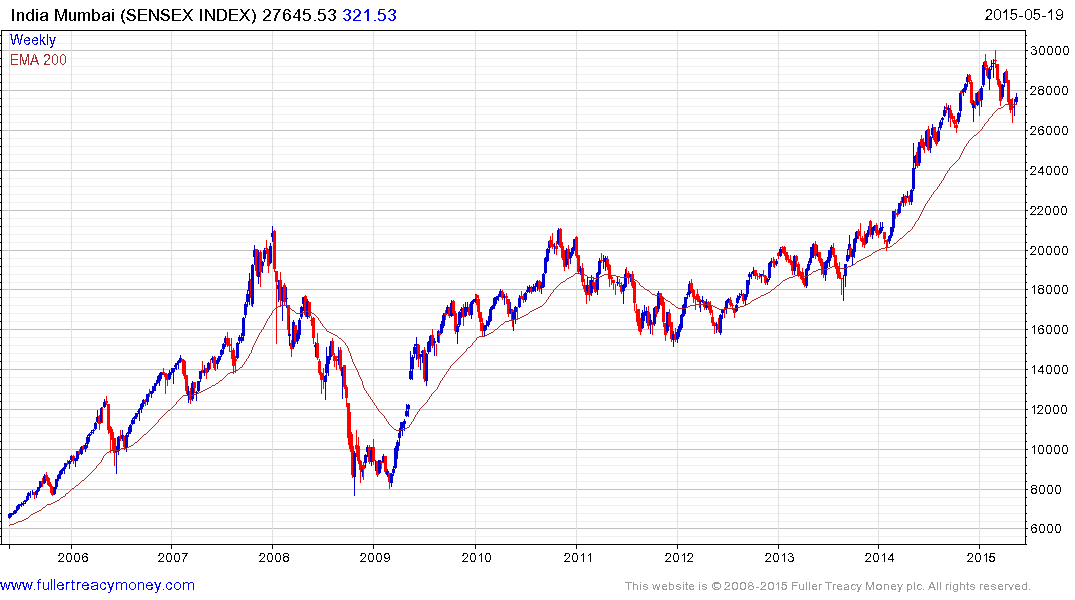 Industrial Production Growth:
Growth is related to consumer demand for the new products or services offered by the industry. Higher growth means more consumer demand meaning more surplus money.
Before Modi: -0.10%
After Modi: 2.40% (Win)
Home Loan Rate:
The lower the interest rate, the more willing people are to borrow money to purchases houses. When consumers pay less in interest, this gives them more money to spend, which can create a ripple effect of increased spending throughout the economy.
Before Modi: 10.25%
After Modi: 9.55% (Win)
Foreign Direct Investment (FDI):
FDI offers a source of external capital and increased revenue. It can be a tremendous source of external capital for a developing country, which can lead to economic development, also resulting in new jobs leading better employment rate and conditions.
Before Modi: $24.3 billion
After Modi: $40 billion (Win)
Besides, the aforementioned economy related growth, Modi Sarkar has started many new initiatives to name a few –
Jan Dhan Yojana: Anyone can now open an account in a bank
LPG subsidy reforms: Barring LPG subsidy to customers who earn more than Rs. 10 lakh per annum. The amount saved was used to give over five lakh new LPG connections to those who still use firewoods or kerosene stoves for cooking.
Swachh Bharat Mission: Cleaning India, building more toilets, waste management and waste segregation.
India-Bangladesh land boundary agreement: Bringing an end to one of the world's most difficult border disputes that has kept thousands of people in stateless limbo for almost 70 years.
Real Estate regulation: Apart from making the process transparent and keeping checks and balances in the form of a Real Estate Regulatory Authority,

the law

drafted by Housing Ministry headed by M. Venkaiah Naidugave confidence to home-buyers.
The rest include: Ganga Rejuvenation, One Rank One Pension Scheme, Make in India, Digital India etc.
I leave the rest to your kind judgement.
Disclaimer: I am not a Modi Bhakt, but I do feel Modi is creating a true sense of optimism in the minds of the countrymen.