Nowadays we can see the impact of social media on elections to our lives. A single post on Facebook is helping a person who needs blood, and a tweet is saving of an Indian in the foreign country (Thank You Sushma ma'am). A tweet is also helping us when we face trouble in Rail Journey (We must say that our ministers know how to use Social Media for helping citizens.)
One other thing is that Smartphones have given us a fantastic facility to shoot videos whenever and wherever we want. A good thing about this is that it can also help in reducing corruption if a video is made at the right time like this guy from Hyderabad done.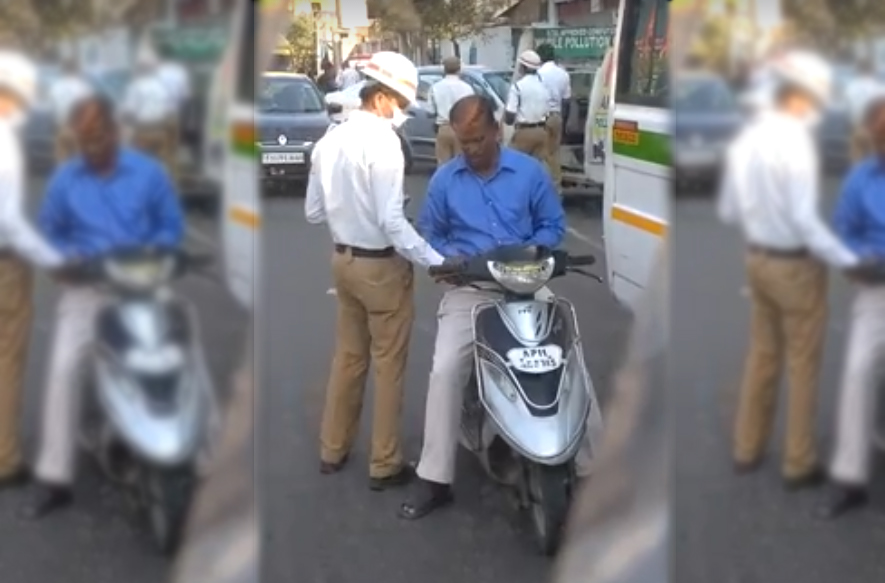 Sridhar Vemula is the guy from Hyderabad who shot a video at Himayatnagar which showed a home guard from Narayanaguda traffic police station taking a bribe from a middle-aged man on the two-wheeler.
The name of the home guard is M. Satya Vishnu, and he stopped the two-wheeler rider because he was not wearing the helmet. We can see some more traffic police officials in the video, but it appears as if they were unaware of what was happening behind them.
The video was shot on 17th March around 4.30pm at Himayatnagar junction, and he uploaded the video on the official Facebook page of Hyderabad traffic police by Sridhar.
You can Watch Sridhar's Video below:
Great traffic policeHimayath nagar 4:30 PM 17 March 2017

Posted by Sridhar Vemula on Friday, March 17, 2017
And here we can see the real impact of Social Media, Hyderabad Police officials responded in Just 24 hours. Hyderabad traffic police responded, saying "Action will be taken…."
Also Read: Indore's 1st Woman Dr. Who's Been Treating Patients For Free Awarded Padma Shri
On the 20th March, Hyderabad Traffic Police responded to the initial post and wrote, "He is being removed from Traffic Department, and disciplinary action will be taken as per rule."
The video has got strong reactions; it has been viewed for more than 5,32,000 times and shared more than 11,000 times.
While several online users didn't want to get him fired but suspended for a month, few were of the opinion that the government should increase their salary so that they don't get involved in corruption. Here we can also see one thing that Social Media is the platform where anyone can raise their point of view.