FULLY CHARGED. FULLY ELECTRIC.
ZERO EMISSIONS. ZERO LIMITS. ZERO EQUALS.
As the world's first zero emissions, zero limits all-electric supertruck, the revolutionary HUMMER EV Pickup is engineered to conquer nearly any terrain. Now meet the next all-electric supertruck—the revolutionary GMC HUMMER EV SUV. It combines the features of the pickup with the benefits of an SUV to earn its own supertruck status.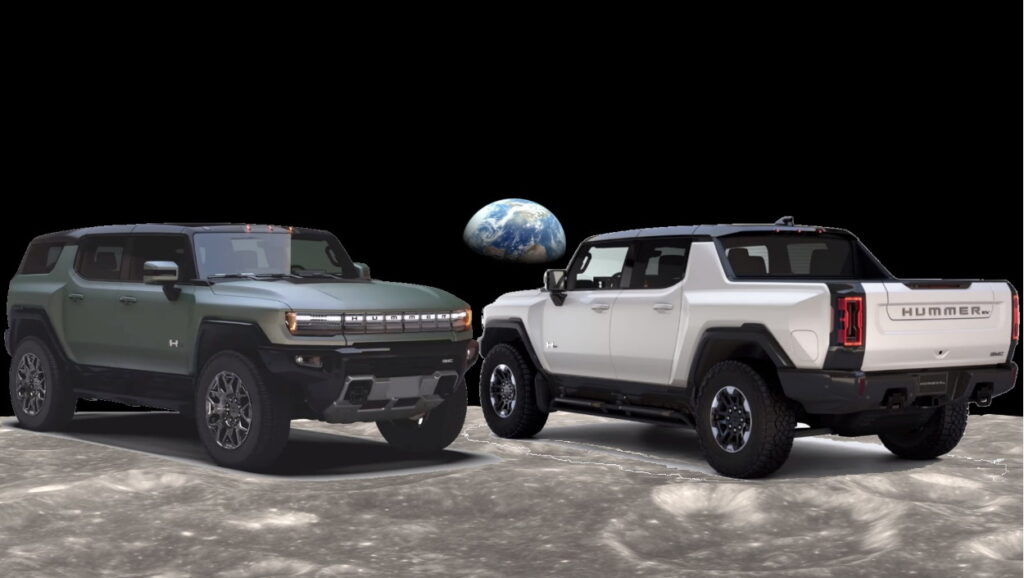 The car maker officially announce this on their twitter handle.
The company speak person told us that, The Hummer EV is arguably the most important vehicle for them to be announced as part of General Motors multi-billion dollar pivot to electrification. It was revealed during a virtual event set to air during the World Series, "The Voice," and across a barrage of social media and streaming platforms. The electric truck will be the first vehicle to feature General Motors' new modular electric vehicle platform and battery, known as Ultium.
The Hummer's "Electric Super Truck" is packed with 3 electric motors, 1000 Horsepower, adjustable air suspension, and diagonal driving feature,designed to move car somewhat "Bishop" moves in chess board!, more accurately they called it "Crab Mode".
CrabWalk is a revolutionary available setting utilizing HUMMER EV's available 4-Wheel Steer (its rear wheels can turn up to 10 degrees in either direction) to drive diagonally at low speeds, helping it to traverse tight trails with a capability that no other competitive SUV is expected to offer at least right now.
The electric truck is set to go into production in early 2023, possibly ahead of Tesla's Cybertruck. 😉
Engine, Transmission, and Performance
Based on the Hummer EV pickup truck­–and hinted at by the superscript in their model names–the SUV version will be powered by two or three electric motors. The EV2 and EV2X have the dual-motor setup that generates an estimated 625 horsepower and what GM is claiming to be 7400 pound-feet of torque. The EV3X and the Edition 1 have a trio of motors (one up front and two out back) with a claimed 830 ponies and 11,500 pound-feet.
Range, Charging, and Battery Life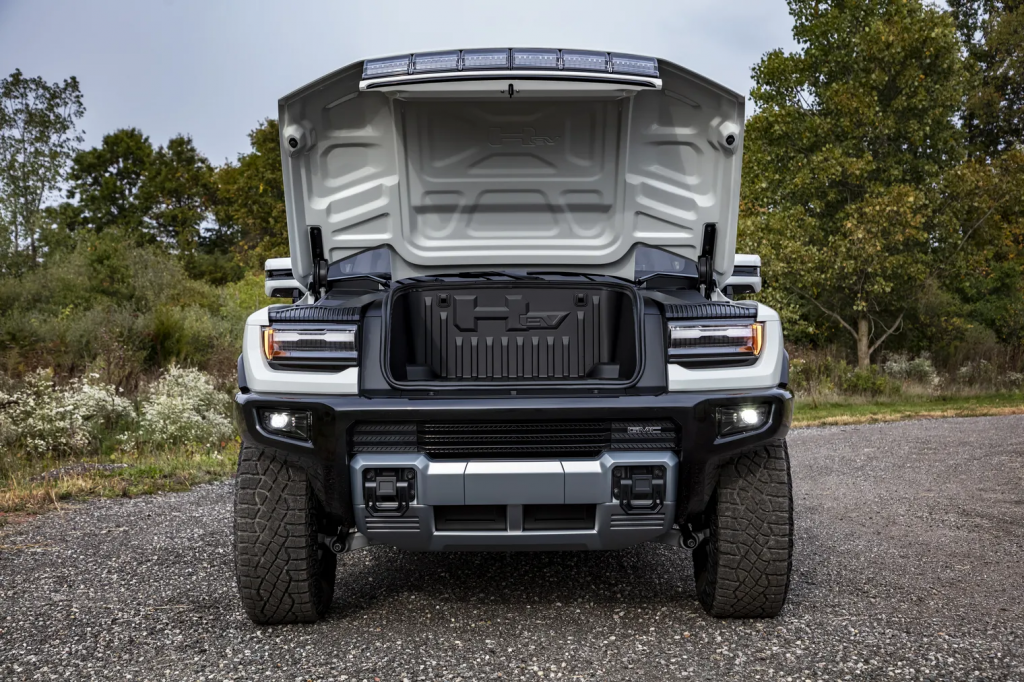 For EVs, Battery is their Heart and soul just like engines in traditional vehicle, hence very important component of the vehicle.
Every Hummer benefits from GM's new Ultium battery technology, which makes it considerably more Eco-friendly than the old gas-guzzling H2 and H2 SUT. While the base EV2 model features a standard 400-volt electrical system, it's also offered with the 800-volt system that comes standard on every other trim. GM has already said that the Hummer EV will have a huge 200.0-kWh battery pack, but we still don't know the official size or its useable capacity. Still, along with fast charging speeds of up to 300 kW, the electrified SUV has a claimed driving range of over 300 miles. They also claim 100 miles range per 10 minutes charging. which is very impressive at the moment.
Interior, Comfort, and Cargo
The interior of the Hummer EV SUV is part rugged and part Sci-Fi. Its three-dimensional dashboard boasts both vertical and horizontal air vents and a pair of large displays that include a 12.3-inch digital gauge cluster. Rather than frustrate users for the sake of appearances, the Hummer has lots of hard buttons and physical switchgear, including a thick T-shaped shifter and a rotary drive-mode selector on the center console. The materials in the top-of-the-line Edition 1 also look very upscale, with leather-stitched surfaces and distinct bronze accents. Another defining feature of the Hummer's cabin is its removable roof panels. Called the Infinity Roof, the system allows users to lift off the four transparent Sky Panels and the I-bar above the front-seat passengers. Along with storage under the load floor, the SUV Hummer boasts an expansive 82 cubic feet of cargo space with the rear seat folded. Advertisement – Continue Reading Below View Photos Michael AaronCar and Driver The Car and Driver Difference Our Comprehensive Car Testing Explained Why We Test: Every Number Tells a Story
Infotainment and Connectivity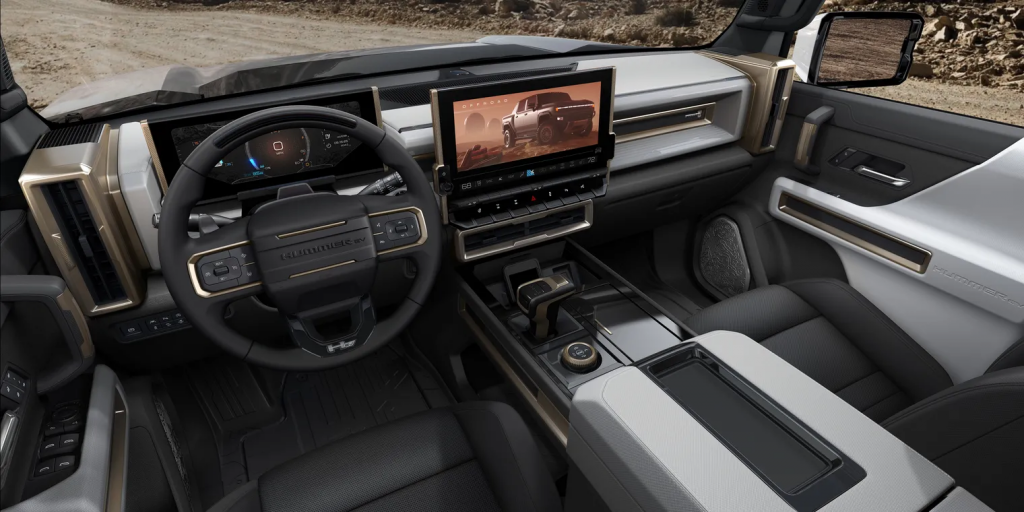 The Hummer's cutting-edge electric technology will be complemented by a large 13.4-inch touchscreen infotainment system and extensive connectivity options. As with most GMC models, desirable content such as Apple CarPlay, Android Auto, and a subscription-based Wi-Fi hotspot is expected to come standard. We'd also expect available upgrades to include a powerful Bose stereo, built-in navigation, a rear-seat infotainment system, and wireless charging. The SUV Hummer is also available with a 6.0-kW onboard generator that can be used to power all sorts of equipment and even charge other EVs.
Safety and Driver-Assistance Features
The Hummer EV SUV will have an enhanced version of GM's Super Cruise that will allow hands-free driving on the highway. We also expect it to have a host of driver-assistance technology that currently graces many mainstream models. For more information about the Hummer EV SUV's crash-test results, visit the National Highway Traffic Safety Administration (NHTSA) and Insurance Institute for Highway Safety (IIHS) websites. Key safety features will likely include:
Standard forward-collision warning and automated emergency braking
Standard lane-departure warning and lane-keeping assist
Standard adaptive cruise control
Great Indoors

This Hummer Beast comes in 2 interior color options
Lunar Shadow : Jet Black and Taupe casts a dark appearance complemented by Tech Bronze accents.
Lunar Horizon : Combination of Jet Black and Light Gray color. Discover Tech Bronze accents.
SPECIALLY ENGINEERED 35″ TIRES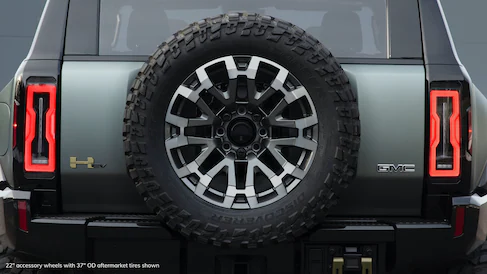 It all starts with a towering ground clearance made possible by specially engineered 35″ Goodyear® Wrangler Territory tires for an optimal balance of on- and off-road performance. For those who demand more, HUMMER EV Pickup and SUV are engineered to fit aftermarket 37″ OD tires.
ULTRAVISION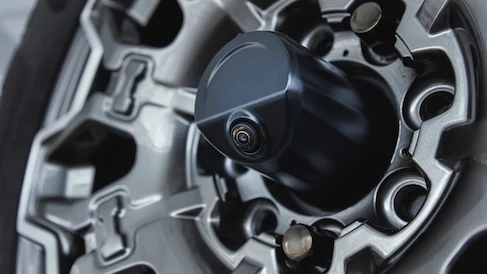 Available UltraVision – with up to 18 camera views on pickup and 17 on SUV, including standard HD Surround Vision – includes waterproof underbody forward-and-rear-facing cameras for real-time views of the terrain to help you pick the best line along the trail. A washer function and replaceable lens protectors help you see clearly. Using multiple cameras to display a digital overhead image of the area around HUMMER EV, HD Surround Vision allows you to maneuver off-road and navigate tight spaces when traveling at low speeds.
IMMERSIVE
INFINITY ROOF WITH MODULAR SKY PANELS

This is what zero limits looks like. The industry-leading Infinity Roof and available Transparent Sky Panels create an immersive open-air experience. Let the world in by removing the four panels and the front I-Bar and lowering the power Rear Drop Glass.
Pricing
Full pricing for the SUV will range from about $80,000 for a base model to $110,595 for a special "Edition 1" launch model with an available "extreme off-road package." The pricing varies based on the range, performance and battery size of the vehicle.
GM said it will begin with producing the highest priced models in early 2023, followed by less expensive versions into spring 2024. The automaker is taking reservations for the vehicle on its website. Like seriously, everyone is adopting Mr. Musk's Marketing and selling style.
Gallery: